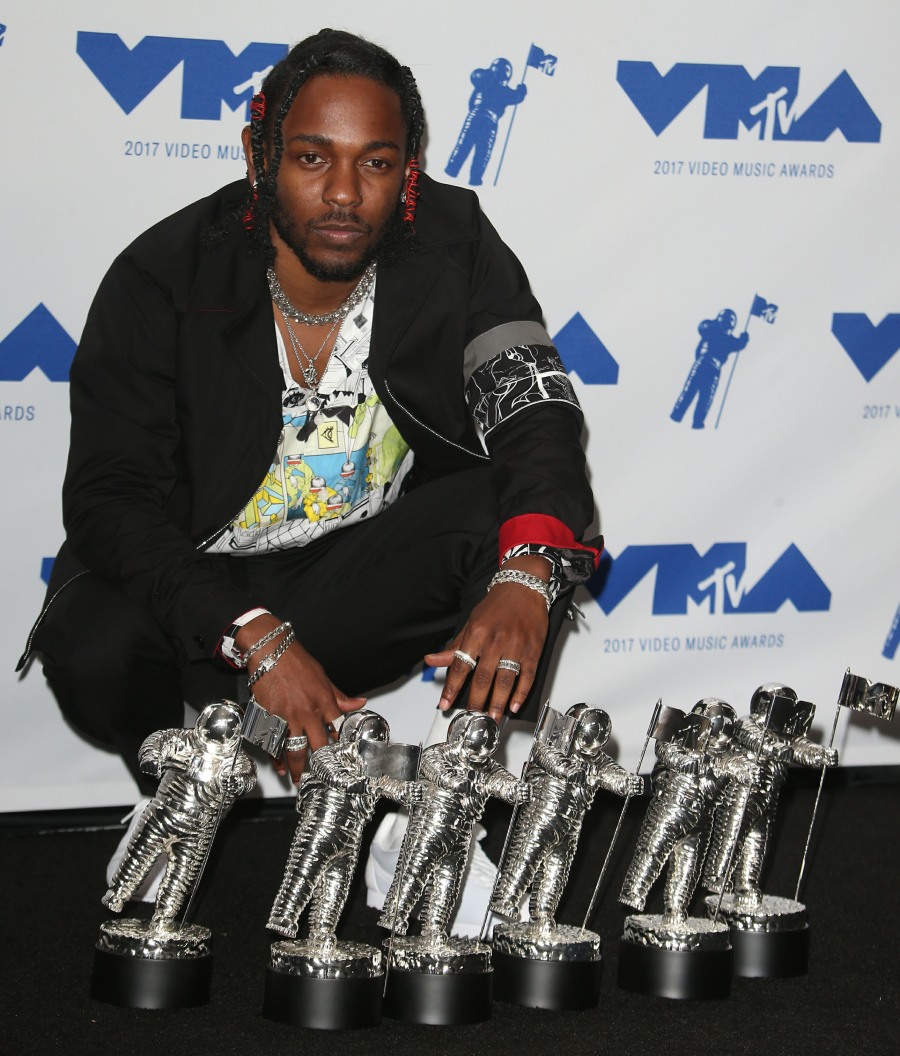 The Pulitzer Prizes were announced yesterday, and I'm pleasantly surprised that many of the award-winners were actually pop-culture and gossip-culture staples. Kendrick Lamar became the first rap artist to win a Pulitzer in the history of the prizes. In fact, he's the first non-jazz or non-classical artist to win a Pulitzer. Kendrick won for DAMN, the extraordinary album he released last year to widespread critical acclaim. He was up against a string quartet and very strange contemporary musical artist Ted Hearne. The Pulitzers aren't a popularity contest, especially not when it comes to awarding music. But I'm guessing that Kendrick's unique genius won over the musical committee.
Since (at least) the release of good kid, m.A.A.d. city in 2012, the singularity of Kendrick Lamar has been plainly evident. But with the Pulitzer Prize in Music for 2018 being given to the Compton rapper for his 2017 album DAMN., his exceptionalism is now officially historic: It's the first time in the prize's history that it has been given to an artist outside of the classical or jazz community.
"A virtuosic song collection," the Pulitzer board writes of DAMN., "unified by its vernacular authenticity and rhythmic dynamism that offers affecting vignettes capturing the complexity of modern African-American life." In addition to topping many year-end best lists (including ours), DAMN. was awarded five Grammys, though it lost out on album of the year to Bruno Mars' 24K Magic.
[From NPR]
In addition to Kendrick, Ronan Farrow and the other journalists who exposed Harvey Weinstein were awarded joint Pulitzers for their coverage.
The fall of 2017 will likely be defined in history books by the #MeToo movement, which gained momentum after three investigative reporters exposed decades-worth of sexual harassment and assault allegations against former Hollywood producer Harvey Weinstein. On Monday, those three journalists — Jodi Kantor and Megan Twohey of the New York Times, and Ronan Farrow, who covered the abuse for The New Yorker — were awarded the 2018 Pulitzer Prize in Public Service Reporting.
Both sets of investigative reports were published within days of each other in October 2017. Kantor and Twohey's Times reporting came first, followed shortly after by Farrow's New Yorker investigation. The Times report uncovered that Weinstein paid settlements to at least eight women, including actress Rose McGowan, who accused him of sexual abuse. Ashley Judd and numerous other women also went on record with the Times about the harassment they endured from Weinstein, many instances of which occurred in luxury hotels.
Farrow's New Yorker reporting included similar stories of abuse and harassment that many women endured by Weinstein, including several accusations of assault. For his story, Farrow spoke on the record with actresses Mira Sorvino and Asia Argento, and also shared chilling audio in which Weinstein admits to groping actress Ambra Battilana. Farrow's investigation was published in the New Yorker after his own employer, NBC News, reportedly declined to publish it.
[From The Cut]
I remember late last year, people were trying to make it …read more
Source:: Cele|bitchy
(Visited 3 times, 1 visits today)