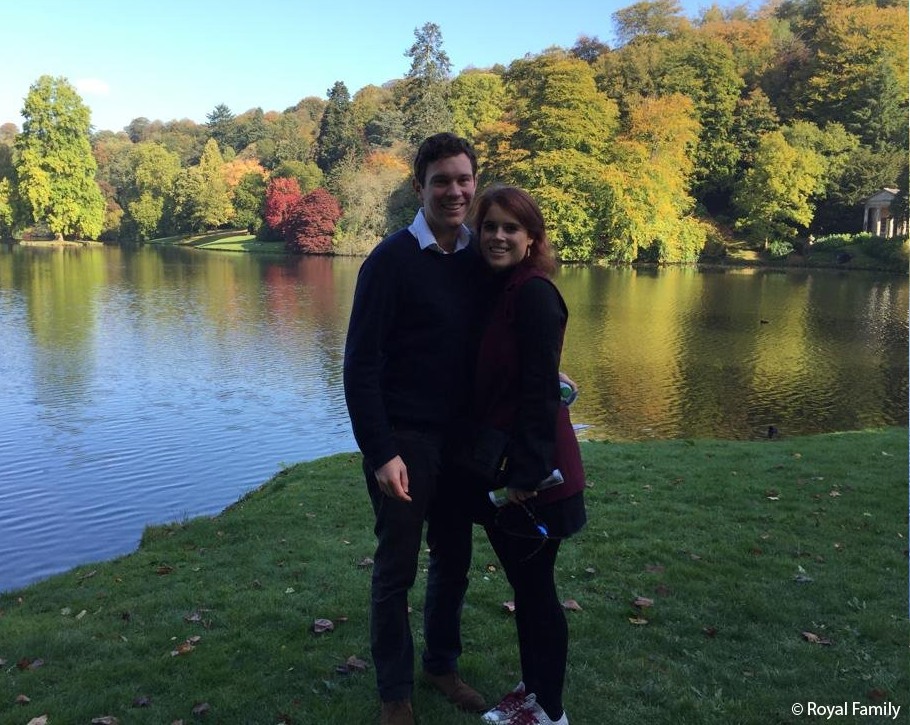 Princess Eugenie and Jack Brooksbank's wedding is on Friday. The arrivals begin at 4 am EST, with the wedding officially starting at 6 am EST. It's rough to do to this to people on a weekday, right? Right. Anyway, we'll have full coverage and fashion stuff, although let's be honest: CB and I aren't going to do wall-to-wall coverage like we did with Harry and Meghan's wedding. We'll do coverage that reflects Eugenie's place in the royal family and in public regard. That being said, I'm excited to see her dress. I heard a rumor that it's Erdem, but I think other British designers could be in the mix too, maybe Sarah Burton for McQueen, Vivienne Westwood, maybe Christopher Bailey. You never know.
Anyway, ahead of the wedding, the Yorks have released some photos and information. They released a new, casual portrait of Jack and Eugenie (above), as well as some cute photos of Jack and Eugenie as kids, and Eugenie and Beatrice as little kids, when they were itty-bitty bridesmaids. As for the information… well, I think we knew most of this, but it's good to see it confirmed by the palace days in advance. Here's the wedding party:
The Best Man: Jack Brooksbank has asked his brother, Thomas Brooksbank, to be his Best Man at his Wedding to Princess Eugenie.
Maid of Honour: Princess Eugenie has asked her sister, Princess Beatrice, to be her Maid of Honour.
Bridesmaids:
Her Royal Highness Princess Charlotte of Cambridge (aged 3)
Miss Savannah Philips (aged 7 – daughter of Mrs Autumn Phillips and Mr Peter Phillips)
Miss Isla Philips (aged 6 – daughter of Mrs Autumn Phillips and Mr Peter Phillips)
Miss Mia Tindall (aged 4 – daughter of Mrs Zara Tindall and Mr Mike Tindall)
Miss Maud Windsor (aged 5 – goddaughter of Princess Eugenie, daughter of Lady Frederick Windsor and Lord Frederick Windsor)
Miss Theodora Williams (aged 6 – daughter of Ms Ayda Field and Mr Robbie Williams)
Page Boys
His Royal Highness Prince George of Cambridge (aged 5)
Mr Louis de Givenchy (aged 6 – son of Mrs Zoe De Givenchy and Mr Olivier De Givenchy)
Special Attendants
The Lady Louise Mountbatten-Windsor (aged 14)
Viscount Severn (aged 10)
[From Royal.uk]
What's the difference between a "special attendant" and a child-bridesmaid/page-boy? Is the difference merely a reflection of the ages of Lady Louise and Viscount Severn? Probably – they were too old to be considered a page boy and bridesmaid, but Eugenie still wanted them in her wedding party, which is nice. They're the children of the Prince Edward and the Countess of Wessex, by the way. Sophie is particularly popular within the royal family, so I would imagine that Eugenie has a good relationship with her aunt, and that's one of the reasons why Lady Louise and James were included.
As for George and Charlotte's presence in the wedding party… I actually feel a little bit sorry for George, because it feels like he's been on Page …read more
Source:: Cele|bitchy
(Visited 2 times, 1 visits today)