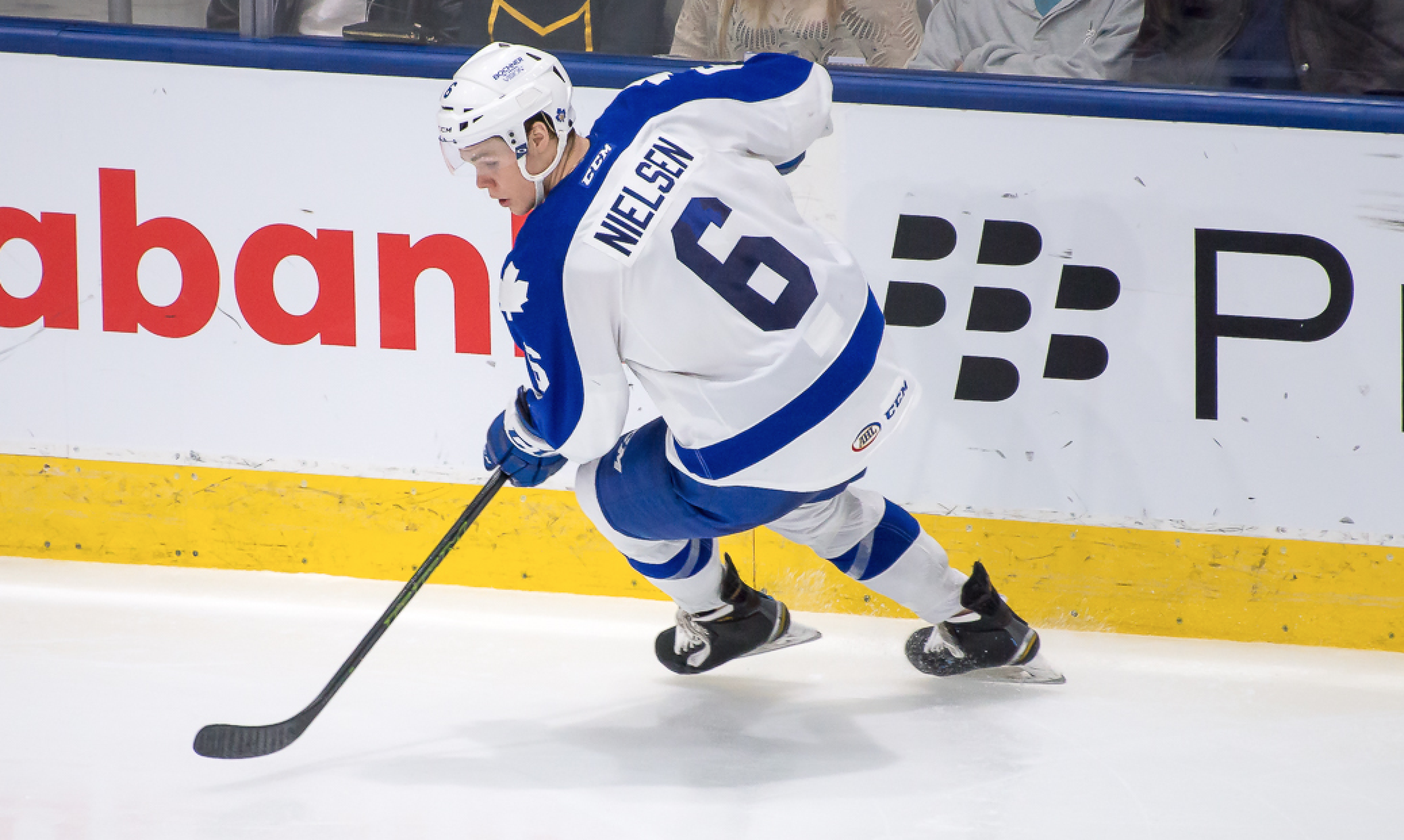 TORONTO – He's gone from believing he's afterthought to being thrust into the latter stages of the AHL's championship series.
It's safe to say the turn of events has Toronto Marlies defenceman Andrew Nielsen feeling more valuable to his team and the Toronto Maple Leafs organization at large.
"Having not played for a month, you start to wonder if they still know who you are," Nielsen said. "And then they have the confidence to put you in in a big game – Game 5 – and put you back in for Game 6.
"It gives you the reassurance that they still have faith in you and your game."
All indications are Nielsen, a 2015 third-round pick, will dress for the second straight time — likely in place of Travis Dermott — for Game 6 of the Calder Cup Finals against the Texas Stars on Tuesday.
The Marlies are up 3-2 and can win their first championship in franchise history.
[radioclip id=4083761]
Marlies coach Sheldon Keefe said Dermott is a game-time decision after missing Game 5 with a reported upper-body injury. TV cameras showed Dermott grabbing his left shoulder after receiving a hit from Stars forward Jason Dickinson in Game 4. Dermott did not take the morning skate on Tuesday.
Nielsen's been told he's in and that's all he needs to hear.
"I'm going to go out there and try to make a difference tonight and be the player that I know I can be and go and help my team win," he said.
Oddly enough, it was Dermott's return to the Marlies after the Maple Leafs bowed out in the Stanley Cup Playoffs that had put Nielsen in his previous predicament.
Nielsen, 21, appeared in 65 games during the season – most among Marlies blueliners – and dressed for the first four AHL playoff contests against the Utica Comets. He had 26 points this season after posting 39 points in 74 games as an AHL rookie a year ago.
Yet the re-inclusion of Dermott meant Nielsen drew the short straw and traded in his equipment for a suit on game nights.
Despite Andreas Borgman sustaining a lower-body injury in the second round against Syracuse, Nielsen's been held out of the lineup exclusively save for two games in that series. His last appearance prior to Saturday was May 6.
As hard as it was, Nielsen tried to remain positive and ready just in case.
"It's disappointing anytime you get taken out of the lineup. It sucks," he said. "You've got to look at it as there's something in your game you can improve. That's what I took it as. I kept doing video. I kept working with the skills coaches. I stayed in shape. I just tried to get better and use that time to try to get ahead in other areas.
"These guys are practising every day and I'm working on my strength and my mental side of the game. There are too many resources here to not stay up to speed and stay battling."
Nielsen was spotted into the lineup with rookie …read more
Source:: Sportsnet
(Visited 7 times, 1 visits today)