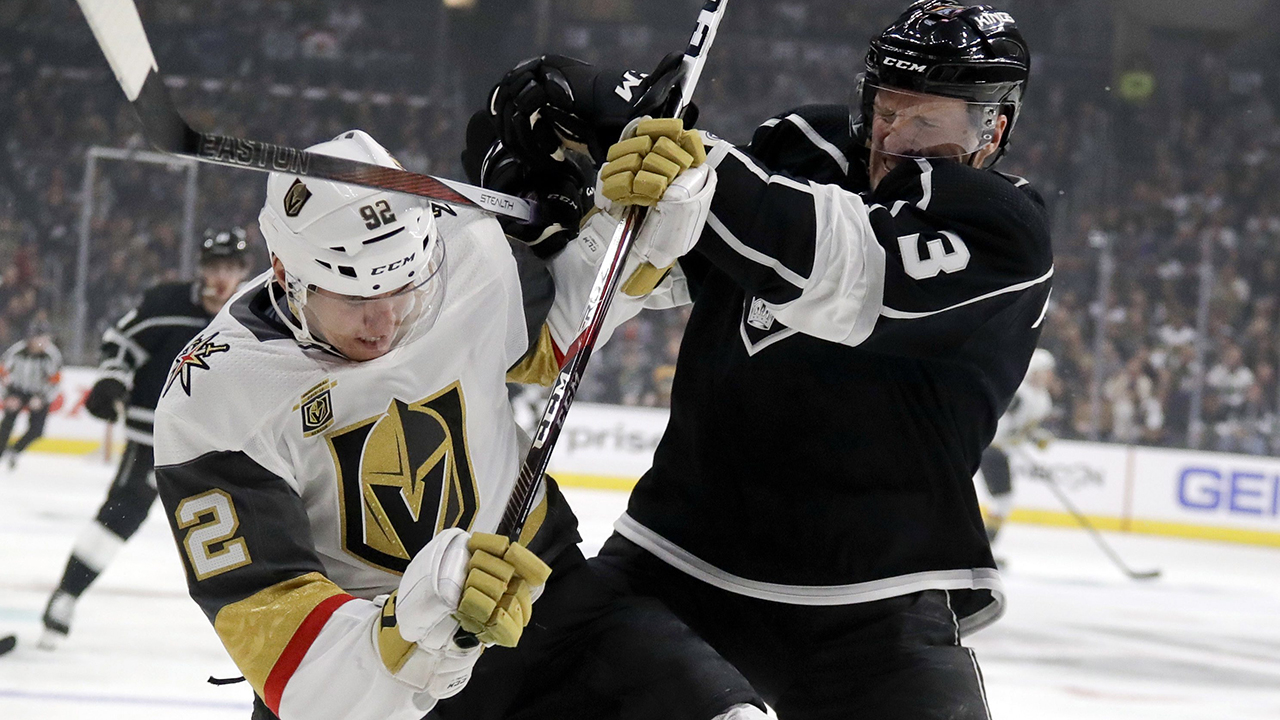 LOS ANGELES – The Los Angeles Kings demonstrated Sunday how tough they are. All the Vegas Golden Knights did was prove again how good they are.
Battered by the Kings all game, the Knights absorbed all the physical punishment and then scored three times in the third period to beat Los Angeles 3-2 and move within a game of winning their first ever National Hockey League playoff series.
In 2018, speed beats physicality. At least it does when you combine it with the skill, cohesiveness, lineup depth and self-belief the Knights have engineered in their improbable, impossible inaugural season.
Those 51 wins in the regular campaign were not lucky. Vegas is that good. Now the Knights are 3-0 in the Stanley Cup playoffs, too, and can make the final eight with a win in Game 4 here Tuesday.
"We're going to be in all different situations throughout the playoffs here if we want to make a run," veteran James Neal said after scoring the 26th playoff goal of his career during the Knights' late surge. "We knew they weren't going to go away, knew the (physical) push they were going to have. We just believe in ourselves, believe in our team and we continue to play the right way."
if ( "1" == true && 'undefined' !== typeof window.getIndexAds ) {
var so = {preroll:{1:{1:{siteID:191888},2:{siteID:191889}}}};
adServerUrl = window.getIndexAds( 'http://pubads.g.doubleclick.net/gampad/ads?sz=640×360&iu=%2F7326%2Fen.sportsnet.web%2FVideo&ciu_szs=300×250&impl=s&gdfp_req=1&env=vp&output=vast&unviewed_position_start=1&ad_rule=1&vid=5771020902001&cmsid=384', so, permalink);
} else {
adServerUrl = "http://pubads.g.doubleclick.net/gampad/ads?sz=640×360&iu=%2F7326%2Fen.sportsnet.web%2FVideo&ciu_szs=300×250&impl=s&gdfp_req=1&env=vp&output=vast&unviewed_position_start=1&ad_rule=1&vid=5771020902001&cmsid=384";
}
$el.after( unescape("%3Cscript src="" + (document.location.protocol == "https:" ? "https://sb" : "http://b") + ".scorecardresearch.com/beacon.js" %3E%3C/script%3E") );
$( document ).one( 'ready', function() {
$( "#video_container-490548" ).SNPlayer( {
bc_account_id: "1704050871",
bc_player_id: "rkedLxwfab",
//autoplay: false,
//is_has_autoplay_switch: false,
bc_videos: 5771020902001,
is_has_continuous_play: "false",
adserverurl: adServerUrl,
section: "",
…read more
Source:: Sportsnet
(Visited 4 times, 1 visits today)