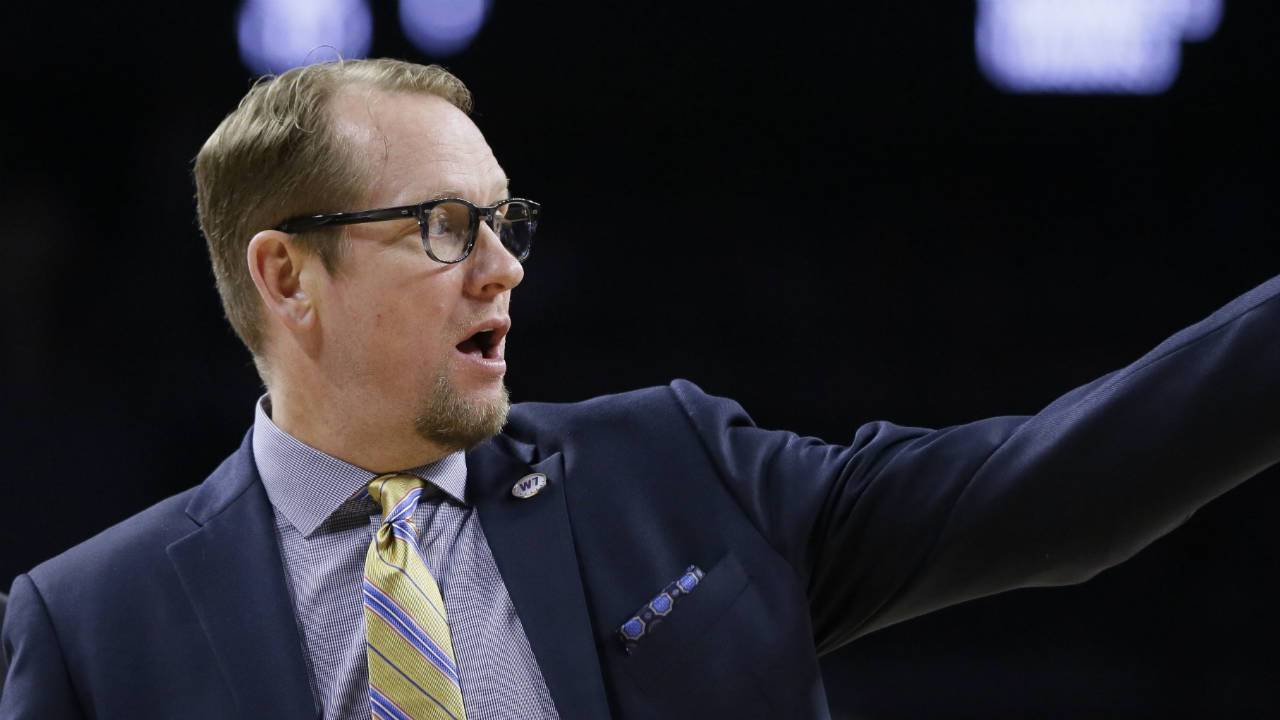 More cowbell. Volume at 11. Pump up the base.
The Toronto Raptors have doubled down on the offensive success they enjoyed in their most enjoyable season – the first two weeks of May excepted – in hiring offensive co-ordinator Nick Nurse to replace Dwane Casey and become the eighth head coach in franchise history.
The 50-year-old music fan – he saw the Rolling Stones at Old Trafford in Manchester just last week – is now the man playing the tunes in Toronto
Nurse gets the nod following a season in which the club rode a far-reaching offensive makeover to win a record 59 games before being swept in the second round by the Cleveland Cavaliers for the second consecutive year.
It was the Raptors' struggles against the Cavs – 2-12 against them in the last three post-seasons, including 10 straight losses – that sealed Casey's fate even as the most accomplished coach Toronto has ever had remains the favourite be named the NBA's coach of the year later this month and after the Detroit Pistons ponied up a five-year contract worth $35 million for his services on Monday.
Details of Nurse's deal were still being worked out, according to team sources, but he'll be a cheaper option on a shorter deal than Casey.
But at any price and under any terms it's now on him to find unearthed value in a roster that is largely set barring any foundation-shaking trades of its expensive, veteran core pieces.
Nurse is Ujiri's first head coaching hire – remarkable given he's entering his ninth year as general manager or team president. He was determined to run a thorough search after firing the popular Casey a month ago. But Nurse's best advertisement might have been the way the Raptors played most of last season as Toronto jumped into the NBA's modern "space-and-pace" attack with gusto.
They jumped from 22nd to third in three-pointers attempted and from 30th in the percentage of baskets generated by assists to 11th as they weaned themselves off a more isolation-reliant approach that was effective in the regular season but seemed to be easier to lock down in the playoffs. The Raptors improved to third overall offensively, averaging 111 points per 100 possessions in the regular season and maintained a respectable 110/100 in the playoffs even as there were signs of the team reverting to hold habits at times.
It was easy to blame Casey when things went south the past five years and how fresh a voice a longtime assistant can be with what projects to be a fairly stable roster remains to be seen.
Now it will be Nurse in the spotlight and Ujiri under scrutiny if the move doesn't pay dividends.
It is Nurse's first crack at an NBA head coaching job after five years as an assistant, all in Toronto and all working for Casey. In the past season he made known privately he was determined to earn a head coaching opportunity and when Ujiri decided his team needed a different approach after …read more
Source:: Sportsnet
(Visited 6 times, 1 visits today)