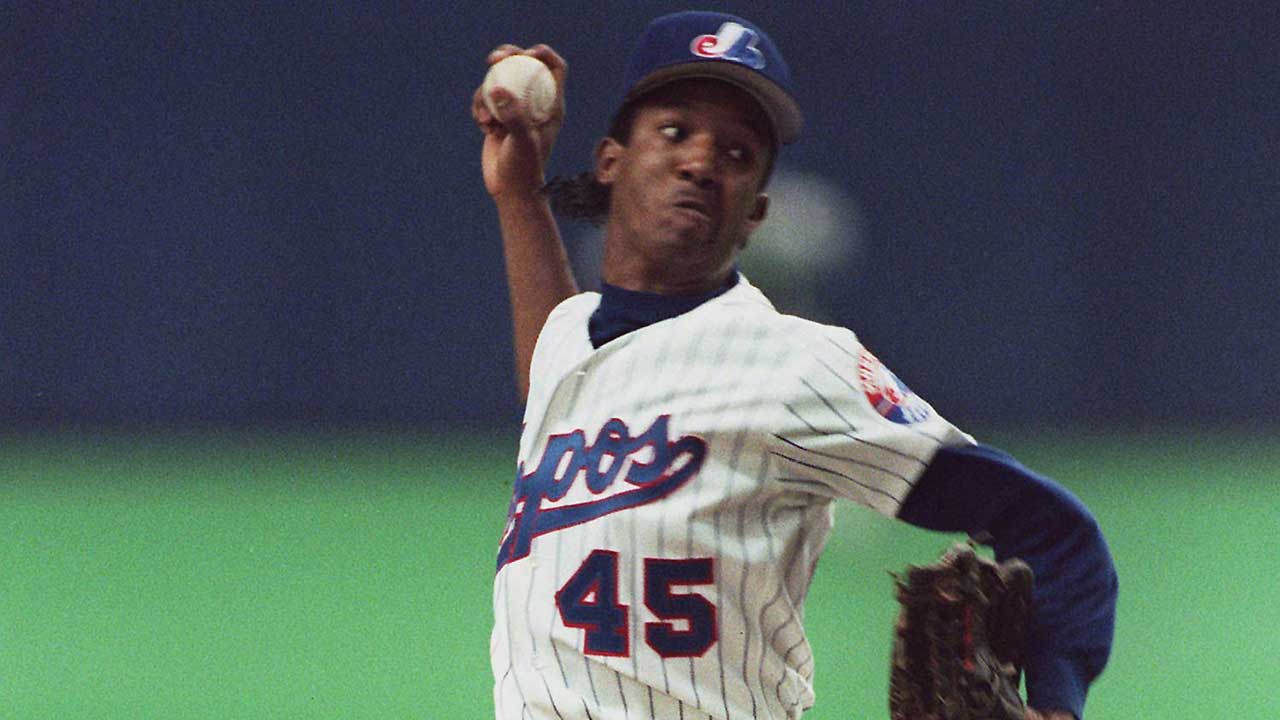 When Pedro Martinez gets inducted into the Canadian Baseball Hall of Fame this Saturday, we'll likely see the recurrence of a pattern that has played out many times since the Montreal Expos first acquired him on Nov. 19, 1993.
Canadian baseball fans will show appreciation for Martinez, who capped an impressive four-year career in Montreal with the 1997 NL Cy Young Award. Chances are, Pedro will reciprocate.
"There's such a love affair because Pedro loves them back and shows respect to them," said Scott Crawford, the Hall of Fame's director of operations.
Even though Martinez played just four of his 18 big-league seasons with the Expos, there's plenty to celebrate about his time in Montreal and enduring connection with Canadian baseball fans.
CONNECTING WITH A CITY
At the time the Expos acquired Martinez, he was a career swingman with an uncertain role on Felipe Alou's pitching staff. He had cost the Expos their starting second baseman, Delino DeShields, and was best known as the little brother of Ramon Martinez.
That anonymity did have its advantages, though. Soon after being traded to the Expos, Martinez connected with the city of Montreal by walking around and exploring. Now that he no longer played on the same team as Ramon, he relied on himself to build a connection with his new home city.
"I was on my own, but I was doing it in a place where I felt really safe and loved by the people," Martinez recalled over the winter. "Embraced by the people—people who did not care what colour you were, what you were wearing, how much money you were making. Montreal means the world to me because it's where I feel I became a man."
Over the course of his four seasons in Montreal, that sense of familiarity grew.
"I took each day like it was a dream," Martinez said. "I was so proud to play baseball every day and was fortunate as a player to be welcomed with open arms in both Canada and the United States."
SHEDDING A REPUTATION
Early in his career, Martinez had a reputation as a head-hunter. The rep was so firmly established that Reggie Sanders once charged the mound when Pedro hit him with a pitch during a perfect game. Yep, Sanders thought Martinez had thrown at him intentionally while bidding for baseball history.
As a pitcher in the National League, Martinez had to stand into the batter's box a few times per game. On one occasion in 1996, he charged the mound when he felt Mike Williams of the Phillies threw at him intentionally.
Considering the emotional intensity of these moments, it's no surprise that Expos fans gravitated to Martinez even before his true breakout season.
BECOMING AN ACE
Allegations of head-hunting aside, Martinez's first three seasons in Montreal established him as a legitimate impact arm. He averaged 185 innings per season with a 3.56 ERA and three times as many strikeouts as walks.
Impressive numbers by most standards, and yet those first three seasons pale in comparison to what he did in …read more
Source:: Sportsnet
(Visited 6 times, 1 visits today)